Welcome back chess-fans – read on for details of the triumphant return of the Hammersmith League from it's long hiatus, and a blistering write up of a make-or-break game in Middlesex Division 3…
The Hammersmith League
"A Brief History of How, Why and Round One"
The fifty-six year old history of Hammersmith Chess Club is both rich and varied. In our halcyon days, one of the most important competitions the club ran was the Hammersmith League. This was a long-play format that involved local clubs, but it sadly fell into decline and finally ceased, as the fortunes of chess clubs in West London withered.
It was always the desire of the current Committee when the club was reinvigorated and financially sound, to resurrect the League. The big question was how we could make it different to what is currently out there, and give it a modern, relevant twist.
The answer lay in the rapid grade you can now obtain as an ECF member. There was nothing out there – League wise – that would allow members to attain a rating – plus the idea that this should be an exclusive competition for players graded around 100.
After consultation with SW London Juniors and our frenemies at Battersea, we launched the League on the 19th March 2018. For this inaugural competition, four teams are involved – Battersea, SW Juniors, and two from Hammer. The competition will be played over three nights in March and April and the basic rules are as follows:
Teams of five boards
Average grade for the team to be no higher than 114 ECF
Time controls – 30 minutes plus 15 second increment per move (the club's decision to purchase digital clocks earlier this year made this possible)
All players to be ECF members and all games to be graded
A double-header – you play the same opponent twice, once as black and once as white
To be played over three nights on the 19th March, 9th April and the 30th April
I must acknowledge at this stage the help from Leon and Gregg at Battersea, Tony at SW Juniors and Adam our Club Captain, in realising the new League. Plus, due to helping out our Thames Valley team on the night, Tony Niccoli ran the first evening for me… hugely appreciated.
So, Hammer needed two new captains – and I am happy to report both Wyatt and Ben stepped up to the plate. We were ready to go!
The first round draw saw Battersea take on SW Juniors and the Hammerheads (Team Wyatt) take on their compatriots Hammersmith Circus (Team Ben).
The SW Juniors was a tense affair that went back and forth across the two matches. In the end it finished 5-5 and honours even. Notable performances were seen from SW Junior stars Alexander Jamieson and Taylor Auchi, both convincing winners at 2-0. Whilst Battersea stars Josef-Milne-Lewer and Joe Sullivan returned 2-0 victories as well.
The last match-up saw Gregg and young Connal contest two hard-fought draws. The match scorecard is given below:
Alexander Jamieson 2 – 0 Darius Zutautas
Teymour Harandi 0 – 2 Josef Milne-Lewer
Connal McBrinn 1 – 1 Gregg Hutchence (two draws)
Kirill Povarenkin 0 – 2 Joe Sullivan
Taylor Auchi 2 – 0 Perto Yusoff
The Hammersmith derby match now took centre stage.
Two new teams and two new captains. There is nothing like lording it over your fellow club mate. There was pride, bragging rights and a bit of putting-in-your-place on the line.
Truth be told it was a bit one-sided with the Hammerheads demonstrating a ferocious appetite for points. Worthy of certain Premier League champions elect.
The final results are not pleasant for Team Circus:
Charlie Sturt 2 – 0 Shiraz Suntook
David Lambert 2 – 0 Alex Meynell
Simon Harding 2 – 0 Dipender Gill
Wyatt Donaldson 2 – 0 Ken Kwabiah
Nadim Osseiran 0 – 2 Ben Rothwell
The Hammerheads triumphing 8-2 and surging to the top of the table. Their top four boards completing 2-0 sweeps and only Captain Ben heroically holding the line and preventing a whitewash.
London League 2 Captain Dave Lambert was in ruthless form and exploited the understandable rustiness of Alex Meynell. Exclusively, for Hammer Chess, he sharedshis thoughts on the two games:
Game 1 (Dave as Black) – we both fianchettoed King-side and then a bit of a standoff occurred in the middle until I grabbed the initiative with my e7-e5 pawn push. This ultimately left me a pawn up after I threatened a cheapshot mate with a Queen/Bishop battery, forcing Alex on the defensive. Alex also got himself into time trouble as he persistently forgot to press the clock! As we entered an endgame slightly favourable to me, he timed out.
Game 2 (Dave as White) – Alex defended with an unusual variation of the Petrov defence which allowed an exchange of Queen and minor piece each, but at the expense of damaging Black's pawn structure. Perhaps somewhat prematurely, I raided forwards with a Rook which snagged a pawn at the expense of wasting several moves finding a safe square to retreat it to.
I entered an endgame with the slight edge but significantly down on time. It was soon a Knight and several pawns apiece, but White had the better centralised King which proved crucial as we entered the final minute. The Black King eventually ended up with two masters – preventing the pawn promotion and guarding his Kingside pawns. It was too much to bear or take, and Alex's resignation followed very quickly.
Thus, after round one the Cross table and League Standings are as follows:
That is Round One folks, with more to come. There is still all to play for and some crucial, crunch games to come.
Bring on Round 2! John.
03.04.18 – Middlesex Division 3: Muswell Hill v Hammersmith
The team travelled to Muswell Hill's brand new pub venue knowing that this game would make or break our season. The game was just as important for our opponents, and as with most second teams at this stage of the season, both teams were slightly weakened by ineligibility.
It was the perfect opportunity for Tommaso to make his debut for the team on board one. He was playing Muswell Hill's newly-graduated youngster, and a wild tactical struggle ensued. With crazy variations in the air, Tomasso coolly navigated the position and entered a Queen & Knight vs. two Rooks endgame. This he won with relative ease – a superb performance that set the scene for the remaining games. 1-0
John on board two was the only player out graded on the night. He entered a classic closed position with a good Knight vs. bad Bishop. He could possibly have pushed his fractional edge, but sensibly decided instead to take the draw. 1.5-0.5
Alexander had an evening to forget. He found himself in an opening he did not know and fell into trap after trap. Two pawns fell in quick succession, and then a piece. His King was hopelessly stranded in the centre of the board and although he defended tenaciously, the writing was on the wall. 1.5-1.5
Nadhmi had the black pieces on board four, and elected to play a solid defence. Both he and his opponent were on top form, and neither faltered. In the end a draw was the correct result. 2-2
Brian on board four found himself a piece down in the early-middlegame. He had decent compensation, however, and pressed his opponent to find some difficult moves. Eventually the extra piece proved decisive and Brian went home empty-handed. 2-3 #squeakybumtime
I faced the tricky 3.Nf3 Scandinavian,and could not recall any of my preparation. In trying to transpose into a line I knew better, my opponent built up a huge centre with c4 and d5, restricting my pieces to the back rank. Fortunately this was where my luck turned: instead of attacking my weak pawns or uncastled King, my opponent decided to slowly develop his remaining pieces to some passive squares, allowing me to untangle and address my weaknesses. The game ended abruptly with a fairly elementary piece-winning tactic, and to my relief I had undeservedly scored a win. 3-3
Charlie was facing none other than his former maths teacher! After Queens were exchanged, Charlie confidently marched his King to the centre of the board, and attempted to checkmate his opponent with his Rooks and Knight! The tactic did not quite go according to plan, and the players started repeating moves while trying to calculate alternative paths. Eventually the Knight was swapped for a Bishop, but Charlie's pawn majority on the Queenside came under attack. The maths teacher decided to test Charlie's arithmetic, offering a draw while three pawns down! Charlie politely declined, and delivered mate on the h-file two moves later. 4-3
Dave on board 8 played a complicated opening, with both players expending a lot of time to reach a middle game position where Dave was a fair bit better. Dave realised he had to speed up his play, but his opponent decided his best strategy was to slow down. As the last game to finish, with all spectators watching the seconds ticking down, only one player in the room was surprised when the flag dropped. 5-3
Go Hammer! The victory means the team is all but guaranteed promotion with a game to spare!
The remaining permutations are mind-boggling. In short, Willesden have to still to play Hendon, and Muswell Hill have still to play Kings Head (twice), so only one of each pair could possibly reach eight points.
Even in this rare scenario, and even if we lose our last game, we'd still have a strong chance of promotion based on game points, penalty points, or the league that no club can have three teams in a division.
A huge thanks to all 24 players who have contributed to the team thus far this season. The coveted MVP certificate is being hotly contested by Charlie, Ken, Ben, Simon and John. If any of these players win in our 12th match (and the other four don't), the prize will be his!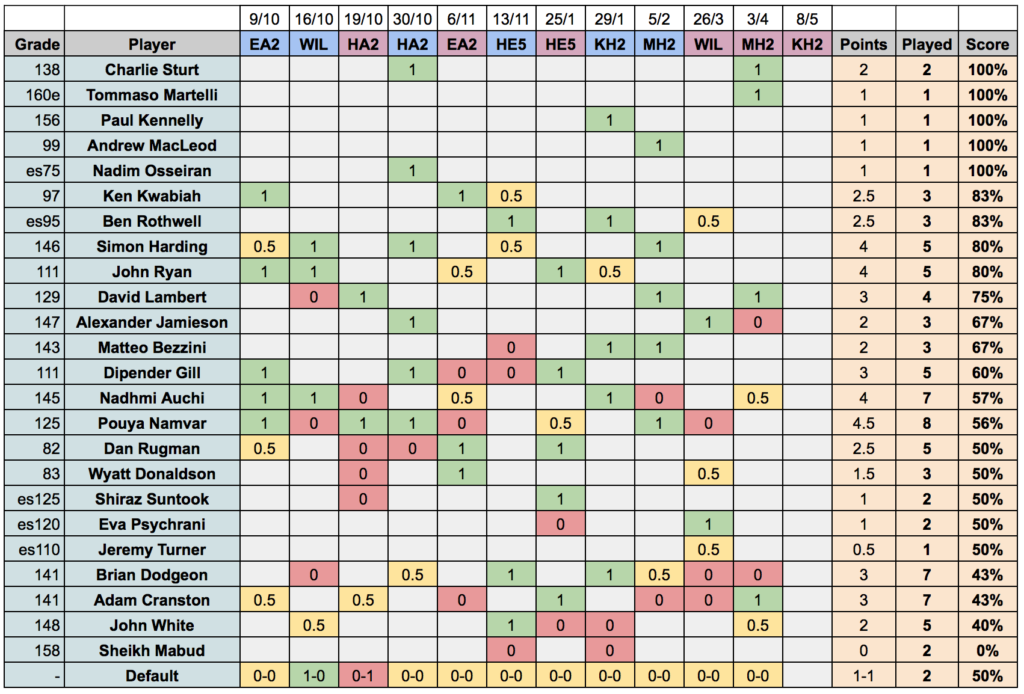 Adam.