26.02.18 – The hallowed hall of The Anvil last night hosted chess royalty in the form of GM Jon Speelman. A special evening where over thirty Hammerites and guests listened, enthralled and captivated, to the wit and wisdom of a top man and a world-class Chess Grandmaster. The "Beast from the East" may have hit London but we had our Beast from Hampstead to keep us warm. The evening had something for everyone… read on.
First off, a few GM Speelman facts:
In 1989 he was ranked #4 in the world, with only some wood-pushers called Kasparov, Karpov and Timman keeping him off the top spot
He was a World Championship semi-finalist, losing narrowly to Jan Timman by the odd point
He is a writer, analyst, newspaper columnist, excellent company and all-round top bloke
My original brief to GM Jon Speelman was to analyse one of his games, talking us through his thought processes, reasoning and strategy. Needless to say, he delivered way beyond that, and graciously indulged us in a lengthy Q&A session.
For those of you who could not attend, you missed a treat. However, do not despair as all the games, puzzles and analysis are included in this report.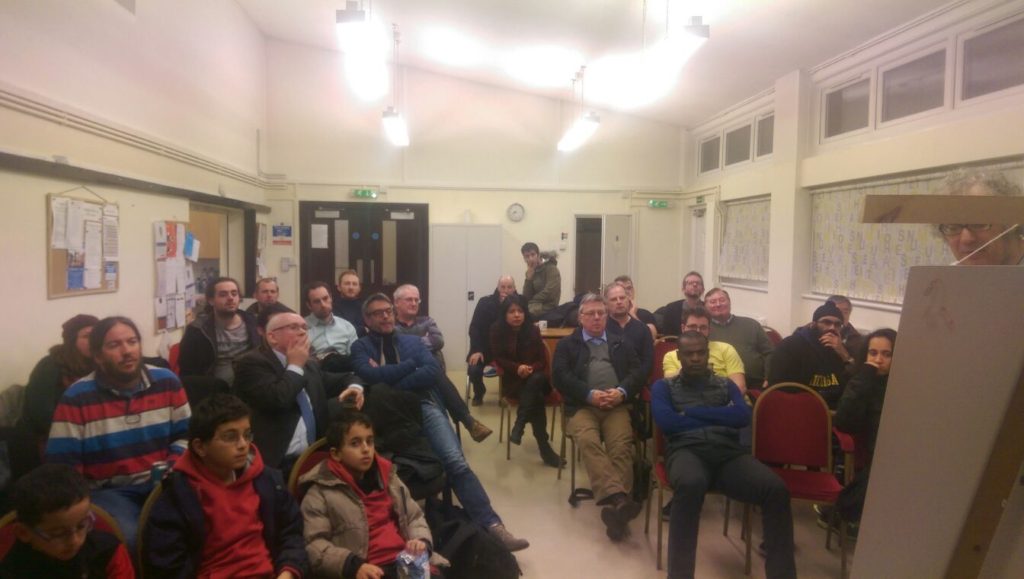 The evening started with GM Jon laying out what he had in store for us, and supplying the first piece of GM Speelman wisdom on chess.
"I like games that are clear cut – either tremendously violent or logical, like this first illustrative game."
The first game was a clash between Kramnik and Sjugirov – Sochi 2016. The game is given below with Speelman analysis.
Jon – we are now BFF's – went through the game encouraging and prompting answers from the audience. No idea or suggestion was too stupid, and all efforts were met with courtesy and listened to… then mostly demolished with logic and good grace.
The game itself is a brilliant example of a top-class Grandmaster, utilising a slightly superior position and giving his talented opponent no chance of counter play.
In particular, Jon enthused over move 24.g3, and as he explained his reasoning for his admiration of this move, uttered the second piece of Speelman chess wisdom of the night.
"If you have a positional advantage, do not press. Improve your position. The likelihood is your opponent will make bad moves"
At this stage of the evening Jon also revealed that he did not count moves when he calculated, he simply pinged!! A counting method I shall try out in my next over-the-board encounter.
Jon then turned to the second game to analyse, and this time he was less modest. It was his classic encounter from the 1989 Brussels Tournament against a certain Viktor Kortchnoi. A case of the unstoppable force meeting the…. unstoppable force. This was a real violent caveman encounter with no quarter asked, or given. As you would expect from two great chess warriors.
Here is the game:
Jon's observations throughout this game were superb, and obviously heightened by his actual participation. The game goes mental from about move 7, and continues throughout with both GM's walking a tightrope. The anecdotes about the game and then the final forcing line, were tremendously entertaining, educational and insightful – this was brilliant stuff.
The irony was, Jon confessed this was probably his best game – his "immortal", but sadly contained a flaw. A rather dodgy character called GM John Nunn approached him immediately after the game and pointed out that if 16.Qc4 had been played by White, then Black had a lost position. How small are the margins between perfection and….. ?
The third piece of Speelman chess wisdom then emerged:
"Play positions you feel happy with. Regardless of material. If you are happy and are playing the game you want, then that is all you need"
The evening then changed tack with two studies being given the Speelman treatment. One an endgame study and one a middle-game fantasy. Both were fascinating and informative – by this stage I could only marvel at Jon's patience and humour as numerous suggestions from the audience were shouted out. Two problems (with solutions) are given below:
The demonstration part of the evening concluded with Jon taking us through another violent game. This one featured GM Teimour Radjabov (famous for destroying Kasparov with the black pieces in a Kings Indian when he was ridiculously young) and a young, probably talented, upstart called Olexandr Bortnyk. The latter was dealt with harshly for obviously not showing enough respect or deference to the now thirty year old Teimour.
So, for your enjoyment and delight, admire the sheer brutality and the putting-you-in-your-place nature of this game.
After this piece of carnage another pearl of chess wisdom was bestowed.
"When you sit down at the board, you have to be in warrior mode. No half measures – you are there to fight"
The final part of the evening saw Jon doing his version of Question Time. Dealing with toughies such as:
What advice would you give kids when facing e4, Bc4 and Qh5?
Who will challenge Carlsen for the WCC?
When will we have a different World Champion?
I play c4, d3, e4… what do you think?
If Nakamura was playing you and he went e4, Qh5, what would you say or not say to him?
What's the weirdest thing an opponent has done to you at the board? (One opponent actually laughed at him!!)
Who was the most talented player you ever met over the board?
What was your chess book collection growing up?
What were Petrosian, Smyslov, Spassky etc. like to play against?
What did you think of Fischer as a chess player, not as… ?
You can tell by the quality of the questions the Hammerites knew their stuff. By the way, two of the questions have the same answer – Ivanchuk. I leave you to work out what are the questions concerned.
Forty minutes past our official finish time your correspondent brought the evening to a close, and Jon accompanied various disreputable Hammerites to the Albion to carry on the evening. Knowing he had spent the weekend playing the Bunratty Chess festival, I can only admire his stamina.
A couple of thanks before signing off – a big shout out to both Adam and Mike for helping me setup the furniture.
Also, a big note of thanks to Paul McK (the Prof) who kept Jon's wine glass nicely topped-up and supplied the wine as well.
However, the biggest thanks go to GM Jon Speelman. An amazing chess player, analyst and raconteur, who can now bask in the added title of "Hammer Legend".
Normal service resumes next Monday.